KillerRONS.COM's owner, James Monroe, has been around drag racing his whole life. His father (Mike Monroe) began competing in 1964 and is an integral part of the racing team even today. After graduating from college and competing successfully in intercollegiate athletics James decided that driving the family race car was what he wanted to do to fill the competitive void. Based upon prior experience with fuel systems and the success of specific local racers it was decided that an alcohol injection system was the only option for them. In 1992 they purchased their first unit directly from Ron's Racing Products for their 383" SBC equipped dragster and experienced immediate results at the local level. This culminated in James being named the "Rookie Driver of the Year" at Action Dragway in Terre Haute, IN.

In 1994, while working a full-time job at the local hospital, James began a common "dealer" program with the Arizona based fuel system company in an effort to gain a little extra racing money. The dealership started innocently as "Monroe Sales & Service" but after nearly a decade of hard work the business had grown to a point where James could no longer hold a full-time job and care for the growing business in a manner his customers had grown accustomed to. In 2001 the KillerRONS.COM website was developed and shortly thereafter in 2004 (with the blessing of his new wife Meleah) James resigned from his day job to pursue the dream of becoming a "professional" in the industry.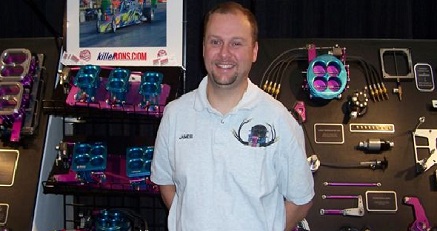 James Monroe is shown above at the Performance Racing Industry trade show where
he annually works the Ron's Fuel Injection booth.

In recent years James has been looked upon by leading companies such as VP Racing Fuels and Transmission Specialties for the development and testing of new products and ideas. As the business has continued to growm, even through a sluggish economy.

Today KillerRONS.COM has customers from all over the United States as well as many countries throughout the world and is responsible for a large percentage of the gross sales at Ron's Fuel Injection. Racers look to KillerRONS.COM for purchases along with fantastic technical support. Not only does KillerRONS.COM sell and service alcohol injection systems but they also offer torque converters, transmissions, nitrous oxide systems, superchargers, data loggers and vacuum pumps.

Below you will get a glimpse of what the Monroe Racing has been able to accomplish with the sole use of Ron's Fuel Injection products. Over time Monroe has purposely "pushed the envelope" by utilizing engine combinations that are commonly referred to as not being "alcohol friendly" or "capable of winning". Not only have many theories been proven wrong; they have been proven wrong on the biggest stages possible with unequaled success. The knowledge gained from these first-hand experiences is what makes KillerRONS.COM the place to go for your alcohol fuel injection system and its related components.

Monroe and company do not rest on past success. In 2012 KillerRONS.COM's James Monroe and select customers began field testing and racing supercharged engine combinations using solely components in the fuel system manufactured by Ron's Fuel Injection. The results were remarkable with Monroe winning multiple events and capturing a division championship along the way. The success of these new systems will allow even more customers to benefit from the KillerRONS.COM experience in the years to come.

In 2014 Monroe "retired" from NHRA Top Dragster racing to focus more closely on "grass roots" racing as well as his growing family. Since that time Monroe has captured six separate Super Pro track championships; four at Lucas Oil Raceway Park at Indianapolis (2014, 2015, 2016, 2017), one at Lyons Raceway Park (2015) and most recently one at Crossroads Dragway (2020). During that great 2015 campaign Monroe visited 9 final rounds at his two home tracks on the way to a pair of track championships.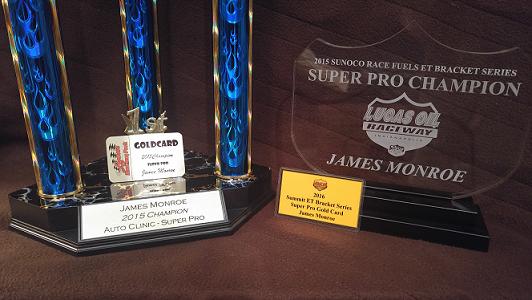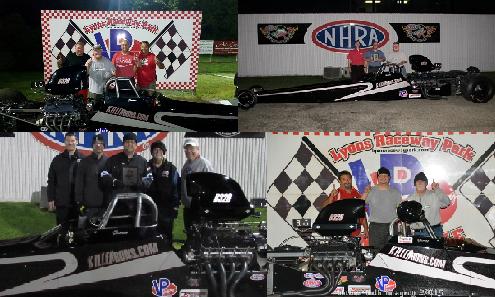 In 2018 Monroe sold his dragster operation and turned his sights on a multi-class drag truck operation in order to gain more information to assist his door car customers. The season was a success as James visited three final rounds in no-box and one in box competition. The highlight of the season was a "Wally" win at Crossroads Dragway in Terre Haute, IN in June of that season.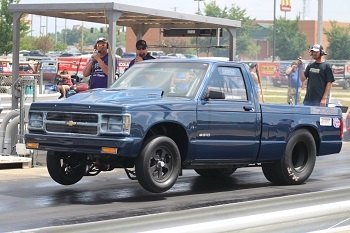 The latest iteration for Monroe Racing has been a super-competitve Danny Nelson Racecraft dragster. In 2019 Monroe campaigned this dragster with a 6-71 supercharged 385" SBC. The combination exceeded expectations from the "get-go" clocking steady 4.50 ET's. At the first event of the season Monroe won "Best Engineered" and won a couple rounds at the St. Louis Super Quick Series season opener. At the very next race in April in Indy James drove to the SQ winner's circle (below). He followed that up in June with a Super Pro win at Indy still running 4.50's. Later that season a customer came along that wanted the blower and fuel system more than James so it was sold (lol).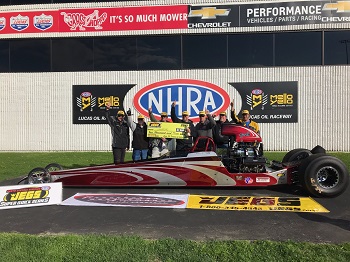 As COVID came Monroe decided to simplify the racing program. To do this a single plane manifold and 1475 CFM Terminator was added to the low compression 385". Over the last three seasons (2020-2022) this combination has been one of Monroe's most successful running consistent 5.40 ET's anywhere it goes. It has appeared in 15 final rounds and amassed 13 wins including two track championships, an ET "Race of Champions" win (below) and a $10,000 single day paycheck.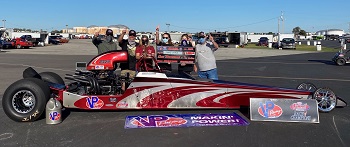 Please take the time to look this webite over thoroughly. There are many links and pages with great information you will not find anywhere else on the internet. Best of all it is totally FREE and is updated continuously! If you have questions don't hesitate to call or email.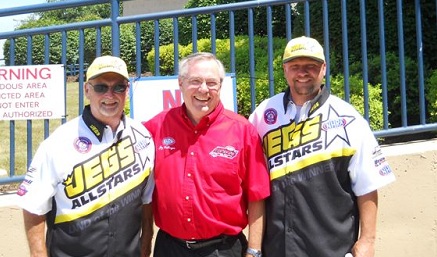 "Killer" James Monroe is shown above wth his Dad (Mike - far left) and NHRA Division 3
Director Jay Hullinger (center) just before his 2011 JEG'S All-Stars win. Monroe also won this event in 2013.

JEG'S Allstars Top Dragster Qualifier
2014 (SEMI-FINALIST)
2013 (CHAMPION)
2012 (RUNNER-UP)
2012 (CHAMPION)

Moser Sportsman Shootout Qualifier
2012 (RUNNER-UP)

NHRA Summit Racing Equipment Nationals Top Dragster Champion (Norwalk, OH)
2010


2-Time NHRA Top Dragster Series Division Champion
2010
2012

2-Time NHRA JEG'S Super Quick Series Division Champion
2008
2006


NHRA "Sportsman Driver of the Year"
2012
2010

3-Time NHRA "ET Bracket Driver of the Year"
2008
2006
2005


2-Time NHRA JEG'S Top Dragster Shootout Champion
2010
2008


9-Time NHRA Track Champion
Lucas Oil Raceway at Indianapolis (2021)
Crossroads Dragway (2020)
Lucas Oil Raceway Park at Indianapolis (2017)
Lucas Oil Raceway Park at Indianapolis (2016)
Lyons Raceway Park (2015)
Lucas Oil Raceway Park at Indianapolis (2015)
Lucas Oil Raceway Park at Indianapolis (2014)
Lyons Raceway Park (2005)
Lucas Oil Raceway Park at Indianapolis (1996)



7-Time NHRA JEG'S Super Quick Series Winner (2nd Winningest of All Time)
Coles County Dragway*
Gateway International Raceway*
Indianapolis Raceway Park*
Bunker Hill Dragway* (S/P winner of same night)
Ohio Valley Dragway*
Mid-State Dragway*
Ohio Valley Dragway*



5-Time NHRA Top Dragster Divisional Wally Winner
Indianapolis Raceway Park (2009)*
Route 66 Dragway (2010)*
National Trail Raceway (2010)*
Route 66 Dragway (2012)*
National Trail Raceway (2012)*

IHRA Modified Eliminator Divisional Ironman Winner
Mid-Michigan Motorplex (2004)


NHRA National Dragster/NHRA.TV Challenge Wally Winner
Crossroads Dragway (2020)
Gateway International Raceway (2006)*


NHRA "KIng of the Track" Wally Winner
Indianapolis Raceway Park (2005)*


"Super Chevy" Series Event Winner
Indianapolis Raceway Park (1996)


Multi-Time "Big Money" Winner
Lucas Oil Raceway Park at Indianapolis (2021) - $10,000
Lyons Raceway Park (2013) $5,000
Lyons Raceway Park (2011) $3,000
Bluegrass Raceway Park (2006) $5,000
Buffalo Soldiers Roundup Race at Indy (2006) $2,500
Ohio Valley Dragway (2006) $5,000
Gateway MegaBucks Hi-Rollers (2007) $3,000
Bluegrass Raceway Park (2005) $10,000
Chandler Motorsports Park (2003) $5,000
Quarter-Million Dollar Drag Race Perfect Run (2003) $10,000
Bunker Hill Dragway (2004) $5,000
Bunker Hill Dragway (2006) $5,000
Muncie Dragway (2001) $5,000
Lyons Raceway Park (2002) $5,000
US-41 Dragway (1996) $4,100


Gateway "MegaBucks" Final Round Appearances Three Straight Years
2002
2001
2000


Over 100 Weekly ET Bracket Wins at Various Facilities Throughout the Midwest