KillerRONS.COM offers the full line of superchargers from The Blower Shop. Below is a general list of parts that is often included in our kits. Please call or email and let us help you pick out the parts that would work best for your performance goals.

6-71 thru 14-71 SUPERCHARGER KITS
(1) The Blower Shop Supercharger with Billet Rotors and Billet End Plates
(1) Billet Hard Anodized Hi-Helix Rotors
(1) Full Rotor Stripping
(1) Billet Blower Snout with Coupler and Fasteners
(1) Upgrade to 8MM Pulleys
(1) Upgrade to BBC Tall Deck Competition Manifold
(1) BBC Blower Drive Kit with Water Block Plates
(1) Crank Hub with Crank Trigger Magnets in Degree Ring
(1) Blower Belt
(1) Belt Guard
(1) Blower and Inlet Gaskets
(1) Aluminum Blower Stud Kit

Click HERE to read about our "Baby Blower" 192 and 250 kits. These are great for picking up two or three tenths with little to no engine modifications.

TERMINATOR BLOWER FUEL SYSTEMS
(1 or 2) Billet Terminator Throttle Body(s)
(1) Combination Barrel Valve (33 or 36 series), Fuel Shutoff and Pill Holder
(1) Idle Bypass with Fitting Installed in Barrel Valve
(8) Injector Hoses of Appropriate Length
(8) Nozzle Bodies and Blower Nozzle Jets
(1) Blower Plate with Nozzle Bodies Installed
(1) Billet Twin Gear Pump of Appropriate Size
(1) BBC Pump Mount and Drive Kit with Blower Mandrel
(1) Shut-Off Cable of Appropriate Length
(1) Fuel Filter
(1) Return Spring Kit
(1) Assortment of Pills for Fine Tuning
(1 or 2) Base Gaskets

(1) Instruction Manual
(1) Barrel Valve Flow and Initial Tune-up by KillerRONS.COM Technician
(1) Custom Excel Spreadsheet with Tune-Ups
ADDITIONAL OPTIONS

Secondary Injector Kit

Large Housing Billet Twin Gear Pump Upgrade
Pump Bypass Manifold
Bearing Throttle Body Shafts

"Black-Out" Supercharger Kit
"Black-Out" Fuel System
Basic Primer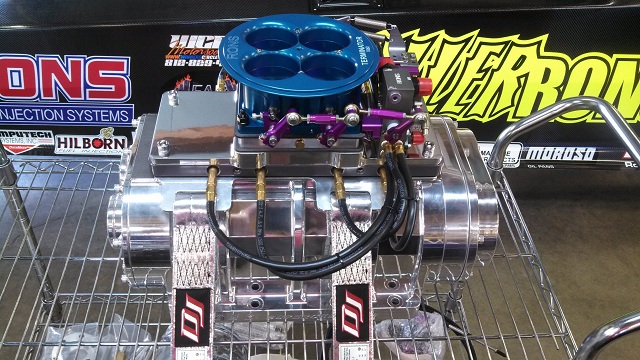 6-71 TBS supercharger with single 2100 CFM Terminator Kit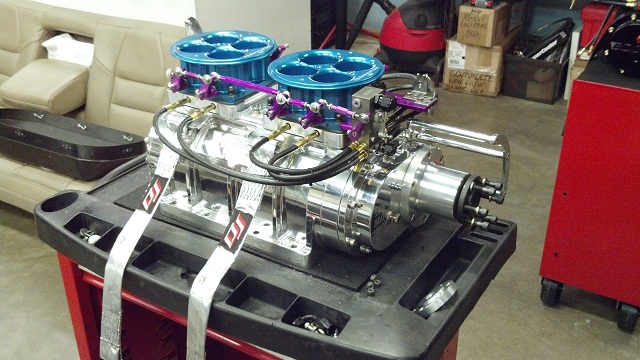 6-71 TBS supercharger with Dual 2100 CFM Terminator Kit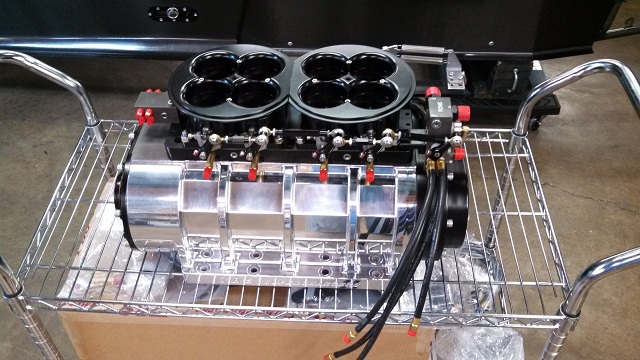 8-71 TBC supercharger with Dual 2100 CFM Terminator Black-Out Kit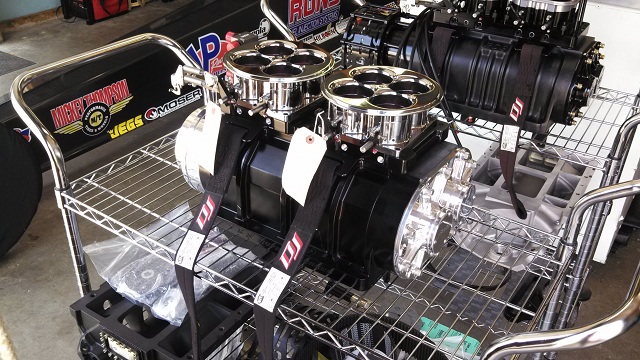 8-71 TBS Supercharger with Dual 2100 CFM Terminator Chrome Kit